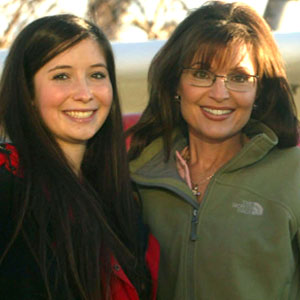 Bristol Palin
has claimed that the public are "envious" of her family.
The
Dancing with the Stars
contestant suggested that the "vicious" criticism of her mother Sarah was a result of her desirable home life.
"I think that people treat her poorly, they treat her with no respect, and I think it's because they're envious of her," Bristol stated to
E!
.
"She's got a good family, she's got a good husband, she's got awesome support, she's got God on her side, and I think people are envious of that. They're envious that she carries herself so well, that she's smart. There are lots of vicious people out there."
Bristol also vowed to support the Republican politician in her professional endeavours, but refused to comment upon
a mooted Presidential campaign in 2012
.
"I think my family has shown the country that we're capable of handling anything," she declared. "If my mum decided to run for President we would be right there behind her, supporting her in any way we could.
"What's said [about the Presidency] at our kitchen table will remain there until she wants to make a decision publicly. We'll wait to hear that."
Bristol signed a deal in May to
front her own reality show on the BIO network
.