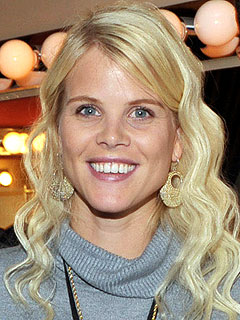 Elin Nordegren
's love life is back on track.
The former Swedish model who's divorced from cheating golfer Tiger Woods as been having cozy rendezvous with a new man at her luxury apartment in Stockholm, according to Sweden's Expressen newspaper.
Elin's new beau is an American who works in finance. Although he resides in New York City, he takes frequent business trips to Sweden. He is described as being in his mid-thirties and very handsome.
On Tuesday, the two were spotted outside Elin's home, which she and Tiger purchased together back in 2005. The home is on the market for $20 million.
As they said their farewells, the pair kissed and hugged before her beau stepped into a taxi and headed for the airport. An onlooker said it looked as if he had trouble using his credit card to pay the cab fare, so Nordegren offered to pay.
After he left, Elin hopped in a separate taxi and headed to her summer house in Vaxholm, where her children Sam and Alexis are staying.