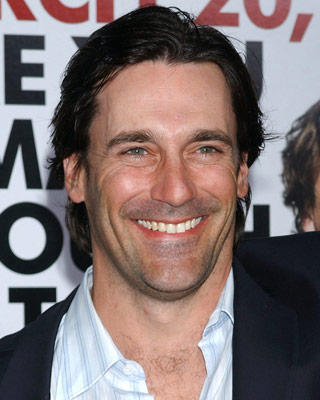 Jon Hamm
's friends fear the actor could be heading to rehab!
The sexy star who plays Don Draper on Mad Men has started drinking heavily, according to a report from an American tabloid.
Hamm was spotted July 1 stumbling out of Little Dom's restaurant in LA with his longtime girlfriend Jennifer Westfeldt.
"In my opinion, he was absolutely blind drunk!" an eyewitness said.
"I was walking in as he was leaving around midnight, and as I opened the door for him, he almost fell out of the bar. I asked him if he was alright as he tripped out of the door and mumbled something incoherently. Jennifer followed right behind him and rolled her eyes."
"On the set, Jon's always as sober as a preacher," said one Mad Men insider.
"But when he's not working, he likes to cut loose with a drink or two… or more! By the end of night, he often seems blotto. His nickname is "
'Hammered'.
"Jon's a hell of a nice guy. But his drinking has caused whispers. No one wants to see him end up in rehab."